Let your creativity flow - Share your projects - And earn money!

---
It's simple...fill out the form below providing us with a detailed description of your project, submit high quality images and if your project is featured on our site you'll receive a $25.00 credit towards any stencil purchase on our website!

Details:

| | | |
| --- | --- | --- |
| 1. | | Although we very much enjoy each and every project we receive, we are not able to guarantee that your project will be featured on the site. |
| 2. | | Your personal information will be protected. If you wish to have your name included with your featured project, we'll be more than happy to do so. We always protect the privacy of our customers, so we do ask that you state your preference when submitting your project. |
| 3. | | If we feature your project we will contact you with the information on your $25.00 credit. This credit can be used towards a stencil purchase on our website. The $25.00 can not be used toward custom stencils, stencil supplies, kits or any products other than stencils available on our website. |
| 4. | | Are you interested in making even more money? Quite often we have people who are wanting to buy our finished items; but we no longer offer them for sale. If you're featured on our website you can also be added to the list of people who offer their painting/stenciling services. We'll need some specific information from you; such as name, contact information and the type of items you specialize in. If we are contacted we'll pass on your information to the potential customer. |
| 5. | | This offer may be altered or discontinued at any time. If changes are made, we will still honor your $25.00 credit, but will discontinue issuing any additional credits. |
| | | |
---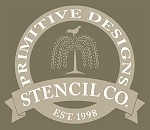 © 1998-2006 - Primitive Designs Stencil Co.